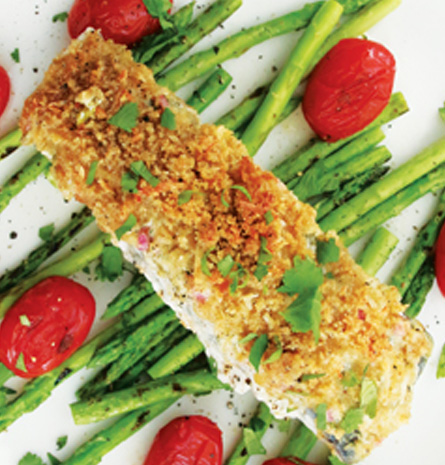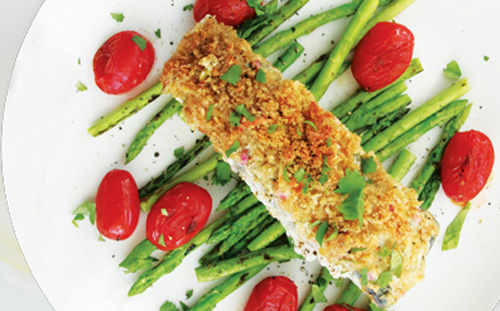 Baked Parmesan Crusted Barramundi with Garlic Butter, Asparagus & Cherry Tomatoes
Serves:

2
Preparation Time:

60 Mins
Level:

Medium
Ingredients
2
Kühlbarra Single-Serving Barramundi Cut
50g
Unsalted Butter, Softened
2
Cloves of Garlic, Minced
1
Elephant Shallot (or 5 Asian Shallots), Finely Chopped
1 tbsp
Greek or Natural Yogurt
10ml
Extra Virgin Olive Oil
10
Cherry Tomatoes, Halves
-
Extra black pepper, to taste
Method
1.
Preheat oven to 200°C.
2.
In a bowl, whisk together the butter, coriander, garlic, shallots, yogurt, lemon zest, lemon juice, salt and pepper, and set this aside.
3.
Mix together breadcrumbs and olive oil until the breadcrumbs are moist. Add Parmesan and some black pepper. Mix to combine.
4.
Season fish on both sides with salt and black pepper.
5.
Place fish on a lined and lightly greased baking tray, skin side up.
6.
Spoon the butter mixture over the fish.
7.
Spoon the breadcrumb mixture over this and press down gently.
8.
Place the fish in the oven. Bake 20-25 minutes.
9.
Transfer fish onto a serving plate.
10.
In a pan, add a little olive oil. Lightly toss asparagus for 2 minutes or until slightly charred. Remove from pan.
11.
Lightly roast cherry tomatoes on the pan until lightly charred. Remove from pan.
12.
Serve fish immediately with asparagus and cherry tomatoes.