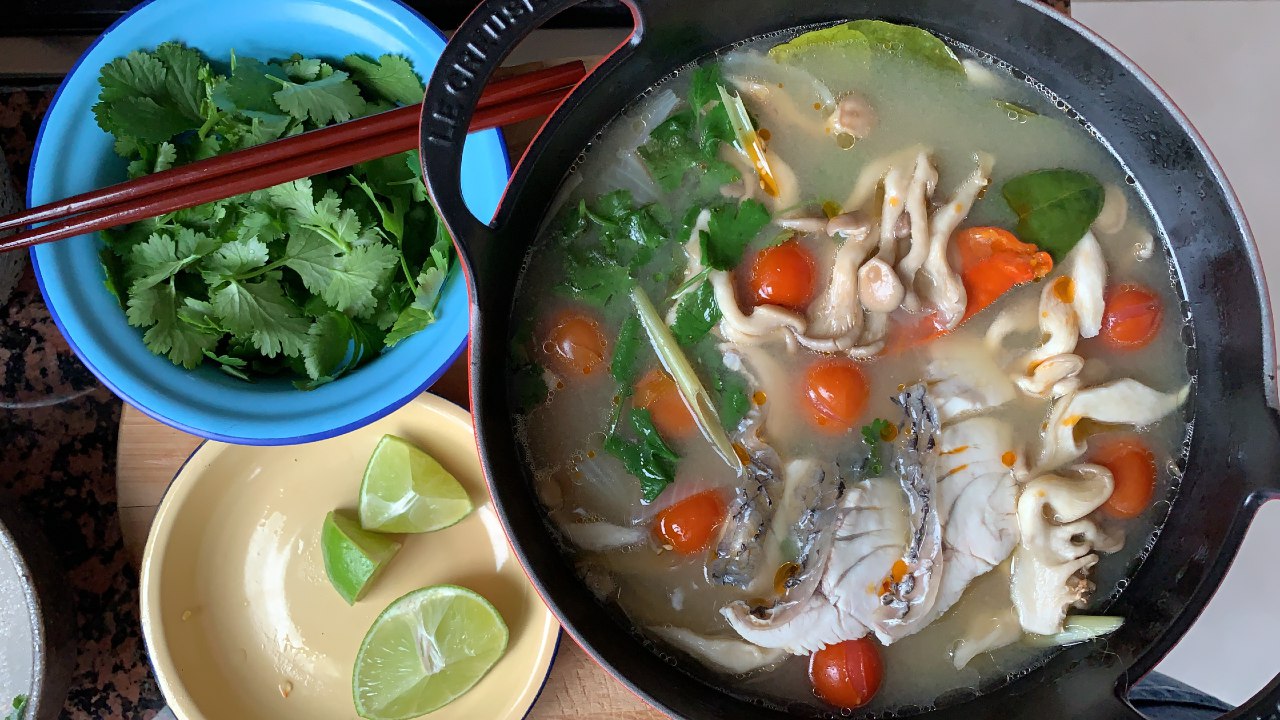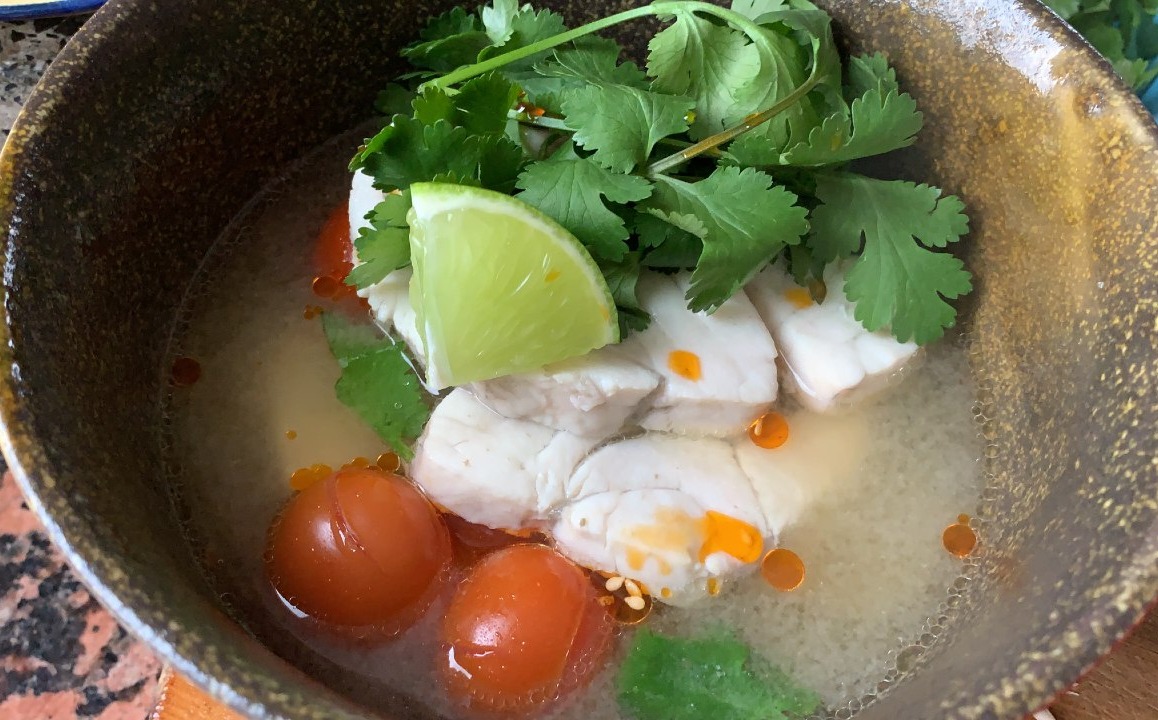 Poached Barramundi in Spicy Tom Yum Fish Soup
Serves:

6
Preparation Time:

30 Mins
Level:

Easy
Ingredients
3-4 Large
Coriander root and stem, cleaned well, crushed (retain leaves for soup)
1 Large
Brown Onion, peeled, cut into wedges
Tom Yum Fish Soup
400g
2 Stalks
Lemongrass, bushy tips trimmed, bruised and sliced thickly on the diagonal
1 Knob
Galangal, sliced thinly
4-6
Thai birds eye chillies, crushed in a mortar and pestle
8
Kaffir lime leaves, crushed lightly
100g
Cherry Tomatoes, pricked lightly with a sharp knife
100g
Fresh Mushrooms (shimeiji or pearl)
2 Large
handful Baby Spinach Leaves (for more greens)
4 Tbsp
Fish Sauce, to taste
1-2 Tbsp
Palm Sugar, to taste
Juice of 1 large Tahitian Lime
Coriander leaves (from above)
Extra Lime cheeks (to serve)
Method
1.
Heat a little oil in a medium sized saucepan over medium heat. Toss in the onions, garlic and coriander roots/stems and cook for a couple of minutes. Layer the fish bones on top of and pour over the water. Place the lid on, bring to a boil then lower the heat and simmer for 45 minutes.
2.
Strain out the fish bones and pour into another saucepan. The onions can be fished out if you'd like to add them to the soup.
3.
Bring back to the boil. Toss in the lemongrass and galangal, lower the heat and simmer for 5-10 minutes. Add the chillies and kaffir lime leaves. Lower the heat slightly to a gentle boil for a few minutes then add the tomatoes and simmer for a further 5 minutes.
4.
Season with fish sauce and palm sugar to taste.
5.
Gently drop in the fish slices and mushrooms and poach until just cooked.
6.
Remove from the heat and add the lime juice to taste.
7.
Scatter over the coriander leaves, some chilli oil (optional), extra lime cheeks and serve with some steamed brown rice or rice noodles (beehoon).