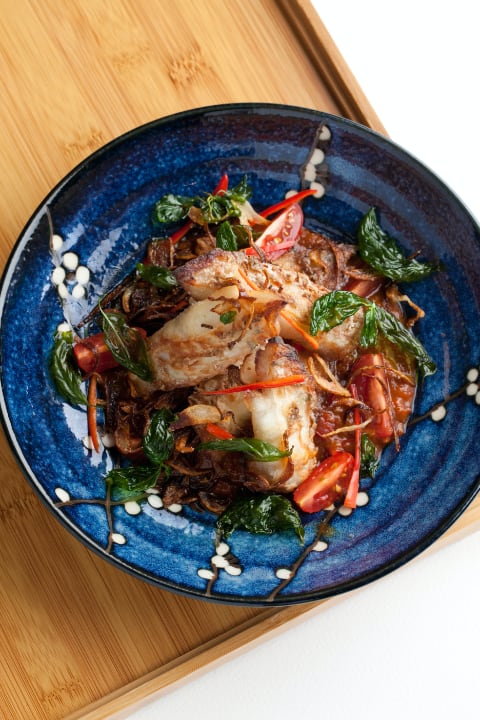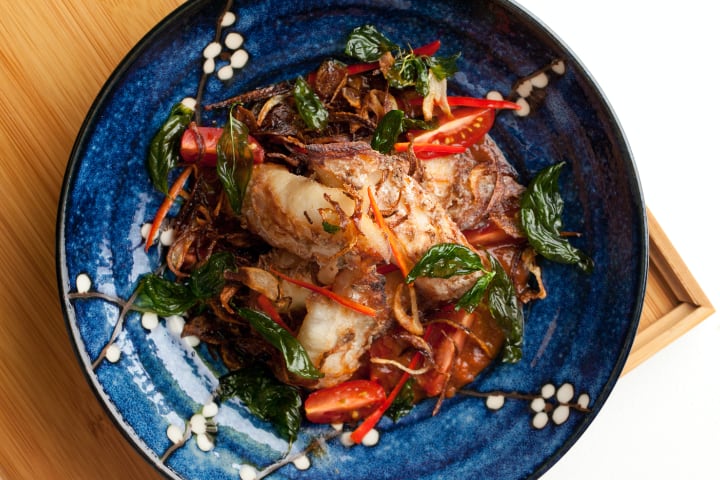 Serves:

1
Preparation Time:

20 Mins
Level:

Easy
Ingredients
1 cup
Onions, thinly sliced
200g
Crush canned tomatoes
6 pc
Cherry tomatoes, quartered
1 pc
Chilli, deseeded and julienned
Method
1.
Cut the Barramundi belly into fillets 5 to 6cm wide.
2.
Rub well with the salt and let it marinate for 10 minutes, or up to an hour.
3.
Prepare a frying pan and heat enough oil to cover a 1cm depth.
4.
Deep-fry the basil until crispy and translucent.
5.
Fry the onions until golden brown and crispy at the edges.
6.
Toss the Barramundi belly in the cornstarch and pan fry until golden on both sides.
7.
Combine the ingredients to make a sauce in a small pot. Bring to a low boil and simmer for 10 minutes.
8.
Arrange the sauce at the bottom of a warmed bowl, stack the belly slices on top and garnish with the onions, basil leaf, chilli shreds and cherry tomatoes.