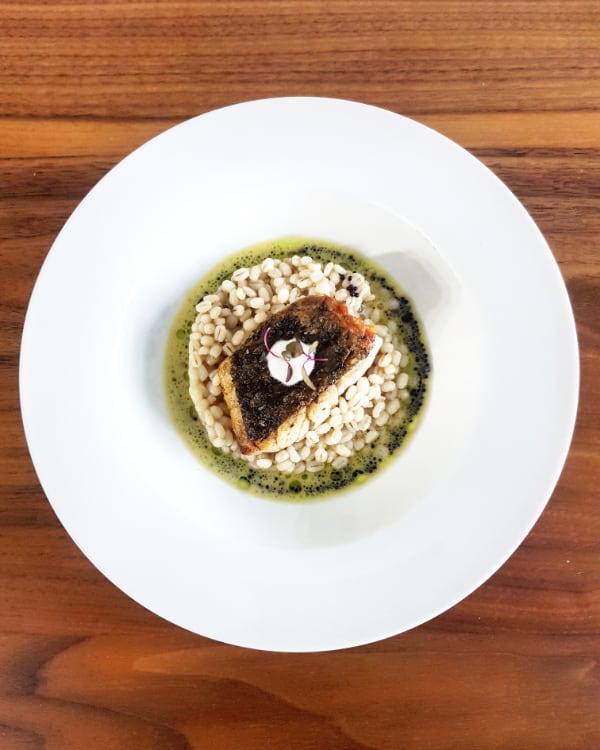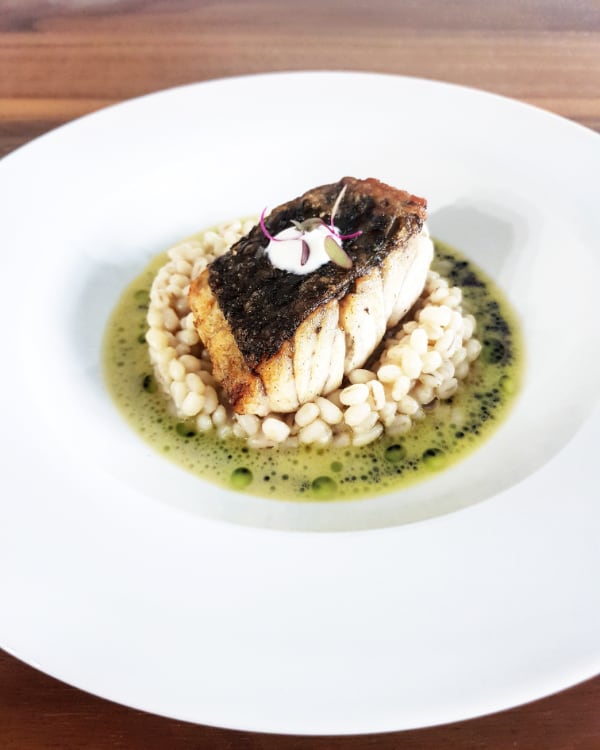 Barramundi Barley Risotto with Caviar
Serves:

2
Preparation Time:

45 Mins
Level:

Easy
Ingredients
150ml
Chicken or Vegetable Stock
3 tbsp
Unsalted Butter (for fish, risotto & sauce)
1 tbsp
Grated Parmesan Cheese
1 cup
Champagne or White Wine
1 tbsp
Finely Chopped Bacon
1 tsp
Finely Chopped Shallot
Method
1.
In a big saucepan, bring water to a boil and blanch dill leaf and stalk for 10 seconds. Shock the dill in an ice bath to stop the cooking, and remove moisture from dill using a cloth or kitchen towel. Add dill and canola oil into blender. Blend for 2 minutes. Strain mixture using cheese cloth or fine sieve.
2.
Using a medium saucepan, combine pearl barley, stock, water and boil over medium heat until the liquid is almost reduced. This will take about 20 minutes. You may start with Step 3 while waiting. Check the done-ness of the barley after 20 minutes. If it is still too hard for your liking, add 50ml of hot water and continue cooking. Once your desired done-ness is achieved, stir in 1 tbsp of butter, follow by parmesan cheese. Set aside.
3.
In a small saucepan, sweat shallot and bacon at low heat. Add champagne (or wine), bay leaf, 1 thyme and lemon juice once the shallot starts to turn opaque. Turn heat to medium-high and let it boil for about 15 minutes. The liquid mixture should reduce by half. Strain the liquid mixture and add in crème fraîche. Bring sauce to a simmer, remove from heat and stir in 1 tbsp of butter. Stir in caviar and season to taste.
4.
Heat skillet on medium-high heat. Pat-dry the Barramundi portions with kitchen towel. Add in 3 tbsp of oil and wait for it to start smoking. Season fish with salt and pepper, and place it into the skillet skin-side down. Do not season fish in advance as that will draw out moisture, causing the skin to not be crispy. Cook 1.5 minutes each side. Add remaining butter and thyme after flipping the fish. Baste the fish. Finish cooking by placing the fish into oven for 3 minutes at 200°C. You may skip cooking in the oven by adding 30 seconds of cooking time to each side of the fish, i.e. 2 minutes per side.