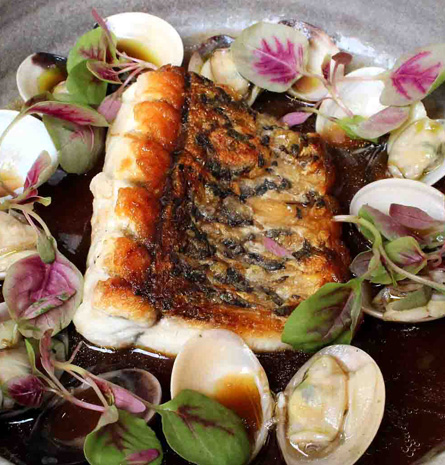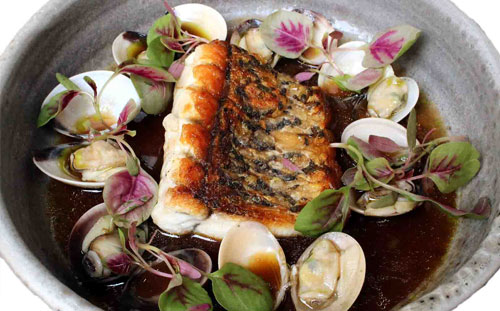 Barramundi | Clams | Prawn Stock | Kelp Oil
Serves:

1
Level:

Difficult
Ingredients
For Fish
200g
Kuhlbarra Barramundi
Method
For Fish
1.
Heat non-stick pan with oil until pan is very hot.
2.
Place seasoned fish, skin side down, and sear until golden brown and filp.
3.
Once fish is cooked, remove from pan and season with lemon juice.
For Clams
1.
Heat saucepan then add confit shallots, clams and wine, and cover until clams open.
For Kelp Oil
1.
Blend all ingredients at 80c for 10 minutes, rest overnight and pass.
To Serve
1.
Place the barramundi in the middle of the bowl, place clams around the fish, then pour the sauce over the fish. Drizzle with kelp oil and garnish with bayam leaves.
For Prawn Stock
1.
Sweat down the onion, fennel, carrot, celery, leek and garlic with saffron and star anise until soft with no colour.
2.
Add tomatoes and tomato purée and cook down slowly till all the moisture has gone.
3.
Add the wine and Pernod. Reduce until thick.
4.
Roast off the prawn shells until well-coloured, drain, and add to the soup.
5.
Add the stock and bring to a boil, skim and cook out gently for 1 hour.
6.
Pass first through a coarse chinoix, then twice through a fine chinoix.
Tips
1.
For Prawn Stock Method Step 4, get a really good colour on the shells as they give good flavour to the soup.