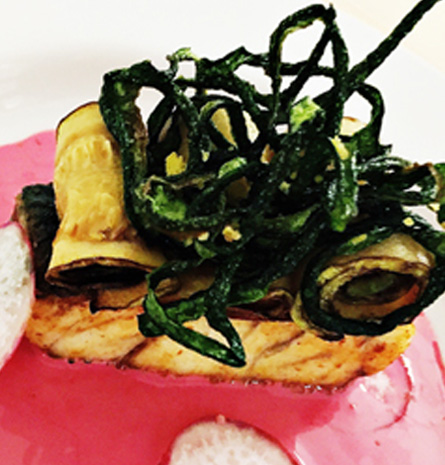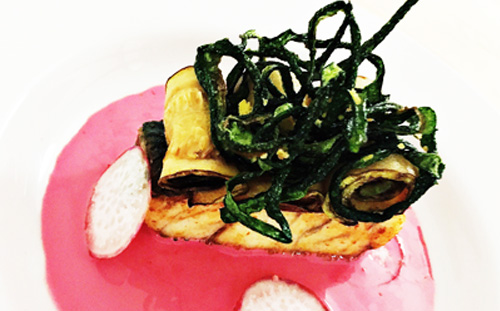 Barramundi Fillet with Scamorza, Beetroot Infuse and Crispy Zucchini
Serves:

1
Preparation Time:

60 Mins
Level:

Medium
Ingredients
200g
Kühlbarra Barramundi Fillet
Method
1.
Dice the beetroot, add to a pot with milk and scamorza. Fill a larger pot with water and bring to a boil. Place the pot with the beetroot on top of the larger pot creating a Bain-Marie. Cover until the smell fills your kitchen. Then remove from fire and set aside.
2.
Peel zucchini and cut 3 slices into 5mm thick strips. Fry in peanut oil until golden-brown, salt to taste and set aside.
3.
Add extra virgin olive oil, pink grapefruit zest and garlic to a pan over low heat.
4.
Massage the barramundi fillet with sea salt and pink pepper. Once the oil is hot, place the barramundi fillet, skin side down, on the pan. After 7 mins, flip the fillet and cook for 3-4 mins on the other side.
5.
For plating, place the barramundi fillet, skin side up, in the centre of a plate. Roll the zucchini and place them on the fillet. Garnish with fried zucchini skin and grapefruit zest (and optional red radishes for heat)
6.
Carefully pour the milk, beetroot, and scamorza mixture over the barramundi fillet in front of your guests for the perfect presentation.