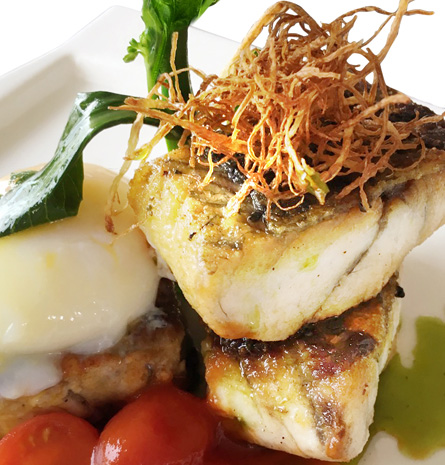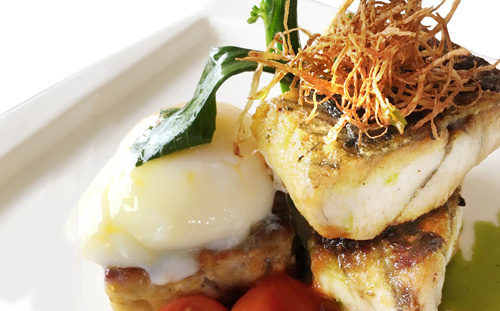 Barramundi Fish Fillet, Fungus & Tofu Fish Patty
Serves:

4
Preparation Time:

45 Mins
Level:

Medium
Ingredients
For Fish
4 nos
Sousvide Egg (cook in thermo-circulator with temperature 65°C for 30mins)
Fungus and Tofu Patty
100g
Sweet Potato, cooked & crushed
60g
Black Fungus, soaked & shredded
40g
Chinese Yam, diced & cooked
120g
Fish Trimmings, cubed
5g
Spring Onions, chopped
2 nos
Egg, lightly beaten
For Tamarind Tomato Salsa
60g
Cherry Tomato, peeled
15g
Coriander Root, chopped
Method
1.
Pan-fry barramundi fillet (skin on) in olive oil till golden brown. Cook the potatoes in salted boiling water until tender. Drain and crush.
2.
Add crushed potato in mixing bowl with fish trimmings. Sauté mushroom with onion, oil and seasoning.
3.
Add in remaining ingredients for the fungus and tofu fish patty. Season generously with salt and pepper.
4.
Shape mixture into a patty with a square ring. Keep in refrigerator for 1 hour. Heat oil in pan and shallow-fry until golden.
5.
Add tamarind water to dissolve the strained tamarind pasta.
6.
Blend olive oil, shallot, garlic and all other ingredients for the tamarind tomato salsa until fine. Strain mixture.
7.
Heat up pan with a little oil and slow cook salsa for 10mins with cherry tomatoes. Season to taste.