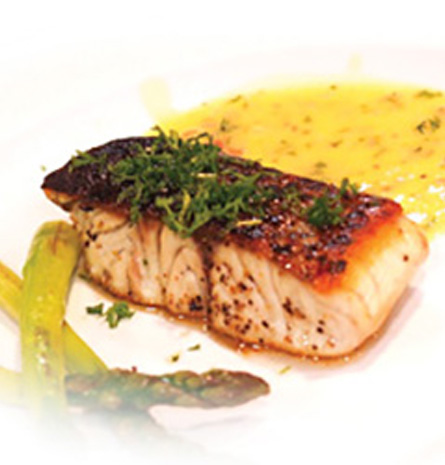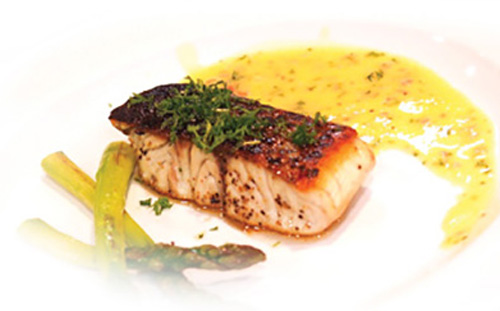 Barramundi in Lemon Beurre Blanc Sauce
Serves:

4
Preparation Time:

40 Mins
Level:

Medium
Ingredients
4
200g Pieces Kühlbarra premium barramundi, cut into 1.5 cm-thick slices
Method
1.
Season individual pieces of barramundi on both sides with salt and pepper.Dust the skin with plain flour.
2.
Sear the barramundi pieces skin down in a large fry pan at medium heat until it crisps and browns on each side.
3.
Finish cooking the barramundi pieces in the oven at 180° for approximately 5-8 minutes, depending on thickness.
4.
For the beurre blanc sauce, cookshallots in the white wine in a wok or frypan at medium-high until it is reduced by half. Reduce heat to low.
5.
At low heat, add butter cubes to shallot mixture one at a time and whisk until sauce thickens. Maintain heat below 58°. Add in lemon juice, salt and pepper to taste. Just before serving, mix in chopped dill.
6.
Blanch asparagus in boiling water for approximately 2 minutes, remove and chill in ice water.
7.
To serve, place barramundi on warm plates and drizzle with lemon beurre blanc sauce. Add several stalks of asparagus to each plate.