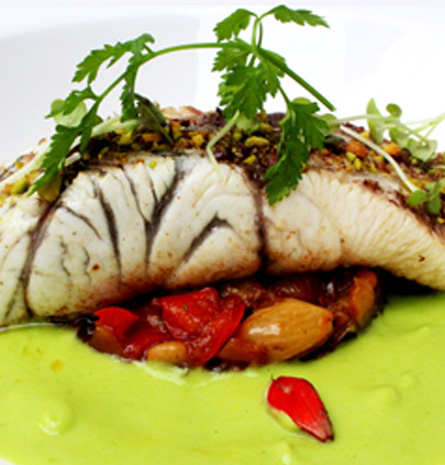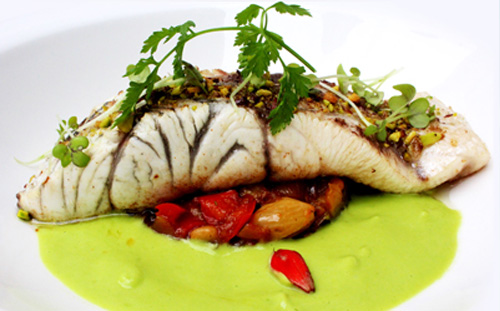 Barramundi on Sicilian Caponata with Pistachio Sauce
Serves:

1
Preparation Time:

60 Mins
Level:

Difficult
Ingredients
For Fish
400g
Kühlbarra Fresh Barramundi Fillet
-
Thyme, garlic, rosemary, black pepper, fresh coriander
For the Caponata
-
Extra Virgin Olive Oil (Evoo)
For the Pistachio Sauce
50g
Pistachio Kernels (Toasted & Blended)
Method
For the Caponata
1.
Cut each type of vegetable into 1cm cubes and cook them in very hot Evoo & garlic for a few minutes. Remove the vegetables and drain the excess oil.
2.
In a pot reduce the vinegar and the sugar until the consistency of syrup is attained.
3.
Add the vegetables and mix thoroughly. Add the tomato paste and season to taste.
For the Pistachio Sauce
1.
In a pot, add the stock, wine, herbs, and vegetables. Place the pot on heat until the mixture is reduced by 1/3.
2.
Add the pistachios and cream and reduce the mixture further by ½ its volume. The mixture should be smooth and light thick.
For the Barramundi Fillet
1.
Heat some Evoo on a pan. When the oil is hot, place the barramundi fillet, skin side down, on the pan for 7mins. Flip the fillet and cook for 3 - 4mins on the other side.