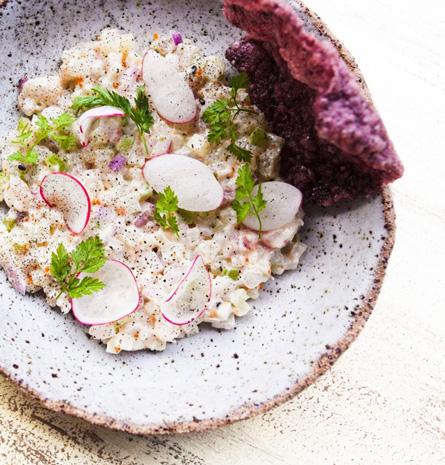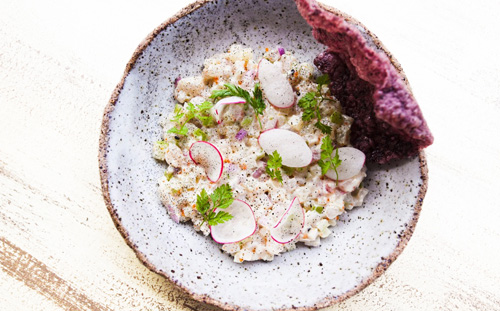 Serves:

2
Preparation Time:

30 Mins
Level:

Easy
Ingredients
For Fish
200g
Kühlbarra Barramundi Fillet, chopped
70g
Granny Smith Green Apple Brunoise
35g
Lemon Basil Aioli (recipe below)
For Lemon Basil Aioli
1.5 c
Lemon Basil Oil (recipe below)
Lemon Basil Oil
20g
Lemon Peel, de-pithed
Method
For Lemon Basil Oil
1.
Combine ingredients in a pot and heat for 15-20mins.
2.
Strain oil and leave to cool.
For Lemon Basil Aioli
1.
Beat egg yolks with mustard, garlic, salt & pepper.
2.
Slowly add in lemon basil oil and whisk until you get a mayonnaise consistency.
3.
Add lemon juice and vinegar.
For Tartare
1.
Blend fillet, apples, onion, lemon basil aioli and heat till 50°C.
2.
Strain and cool or use a Thermomix (speed 7/50c/7min).
Tips
2.
*Disclaimer: Proper santisation and handling is necessary to prepare this dish.