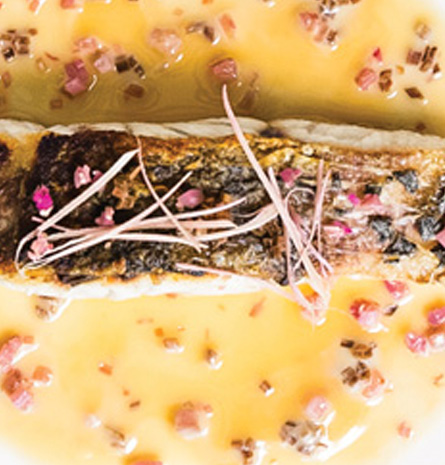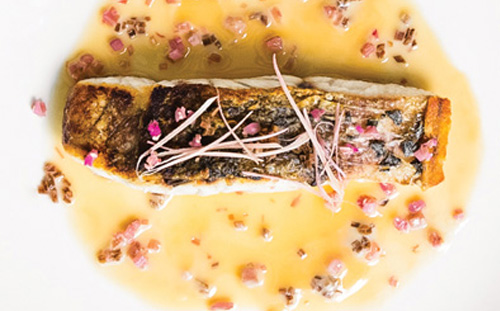 Barramundi with Rojak Flower Butter Sauce
Serves:

4
Preparation Time:

30 Mins
Level:

Medium
Ingredients
For Pesto
4
200g Kühlbarra Barramundi Fillet
For the Beurre Blanc Reduction
250g
Eschalot, peeled and sliced
30ml
White wine vinegar (use a sour version, e.g. champagne vinegar)
For the garnish — equal parts, finely diced
-
Tamarind pickled eggplant
-
Banana blossom (choose only the light coloured petals) dropped into acidulated water for half an hour
Method
To prepare the Barramundi Fillets
1.
Score barramundi skin.
2.
Season the barramundi with salt & pepper, set aside.
To cook the Barramundi Fillets
1.
Pat the barramundi fillets dry.
2.
Heat a pan drizzled with olive oil over high heat.
3.
Pan-fry the barramundi skin side down.
4.
Lower to medium high heat and let the barramundi cook for about 2 - 3 minutes until the skin is nicely browned and crispy.
5.
Turn the fish over, lower the heat to medium low and cook for another 1 - 2 minutes.
6.
Remove from the pan and set aside to rest.
To prepare the Beurre Blanc Reduction
1.
Place white stock, eschalot, garlic and rojak flower stems in a small saucepan over medium heat and bring to boil. Stir occasionally for 3 mins.
2.
Reduce until syrupy, and then add the white wine.
3.
Again, reduce to syrupy consistency and then add the white wine vinegar.
4.
Strain the reduction through a fine sieve into a small frying pan.
5.
Place frying pan over low heat. Add the butter, 1 cube at a time, whisking constantly.
6.
Once all butter is incorporated, remove from heat, season with salt and pepper.
7.
Keep the sauce warm so that it does not solidify and split.
To serve
1.
Lay dish with sauce and place fish gently in the middle of the dish. Sprinkle garnish evenly on sauce and serve.