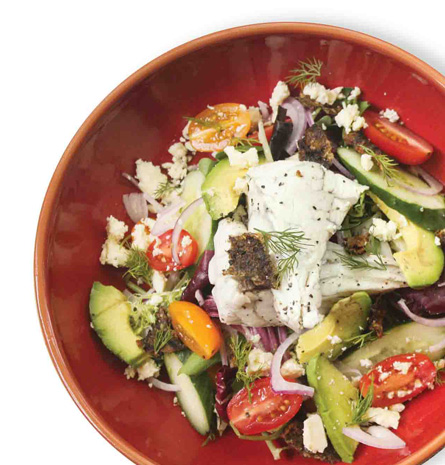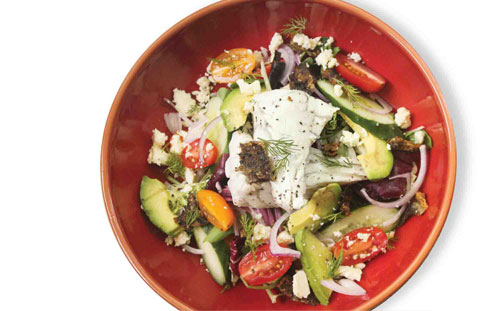 Crispy Skin Barramundi Mediterranean Salad
Serves:

2
Preparation Time:

30 Mins
Level:

Easy
Ingredients
200g
Kühlbarra Barramundi Portion; cut into half
200g
Cherry Tomatoes; cut into halves
1/2
Japanese Cucumber; sliced
1
Small Red Onion; sliced
-
Feta Cheese; crumbled & to taste
Method
1.
Place tomatoes. cucumber, onion, avocado, feta cheese and dill into a bowl.
2.
Drizzle with olive oil, lemon juice and sea salt & pepper to taste. Toss gently to combine.
3.
Remove skin from barramundi and season with salt. Pan-fry the skin in olive oil till crispy and break into small pieces.
4.
Bring water to a boil and add 1tsp sea salt. Reduce heat and add in the barramundi meat. Cover pot and cook for 10 - 15 minutes or until fish is opaque.
5.
Spoon mixture over a bed of salad greens in a serving bowl and place poached barramundi on top. Sprinkle barramundi skin over and serve.