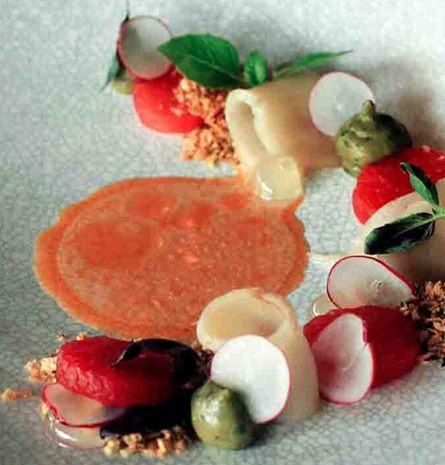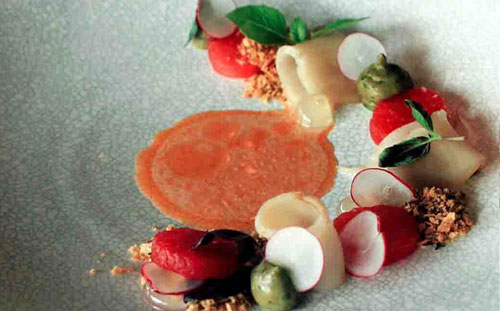 Cured Barramundi | Watermelon | Avocado
Serves:

4
Preparation Time:

15 Mins
Level:

Difficult
Ingredients
For Fish
400g
Kühlbarra Barramundi; skinless
For Watermelon Vinaigrette
150g
Fresh Watermelon Juice
100g
Bottled Tomato Juice
1 tbsp
Extra Virgin Olive Oil
For Watermelon Salsa
15g
Red Chilli; finely diced
10ml
Extra Virgin Olive Oil
For Avocado Purée
12g
Onion, finely chopped
25ml
Extra Virgin Olive Oil
For Fish Floss
50g
Barramundi Trimmings; dehydrated
25g
Japanese Breadcrumbs; toasted
5g
Garlic; minced & fried
For Garnish
-
Breakfast Radish; thinly sliced
-
Watermelon; sliced into discs
Method
For Fish
1.
Mix the grinded pepper, salt, sugar and zest together.
2.
Rub the salt mix over the barramundi and wrap in tin foil.
3.
Leave for 2 hours in a chiller.
4.
Wash the salt mix off and pat dry.
5.
Leave to air dry for 1 hour in the chiller.
6.
Sliced to 3mm thickness when serving.
For Fish Floss
1.
Brine the barramundi in 10% salt 90% water.
2.
Leave for 1 hour and then wash and pat dry.
3.
Dehydrate for at least 12 hours.
4.
Blend the fish with the rest of the ingredients and put aside ready to serve.
For Watermelon Vinaigrette
1.
Combine all ingredients together and leave to marinade for 6 hours.
2.
Blend together and strain.
3.
Keep chilled before serving.
For Watermelon Salsa
1.
Mix everything together and season to taste.
For Avocado Purée
1.
Combine everything and blend until smooth.