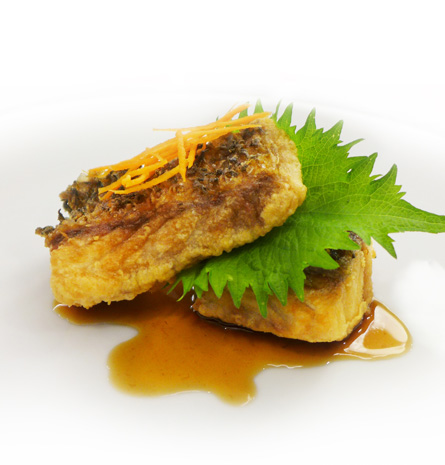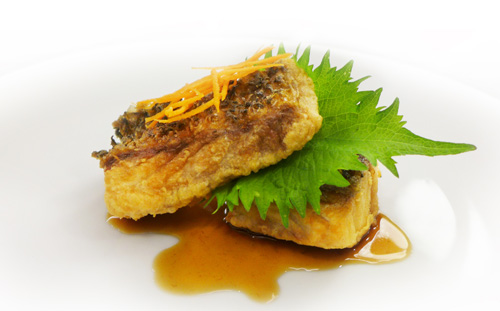 Fried Barramundi with Ponzu Sauce
Serves:

4
Preparation Time:

25 Mins
Level:

Medium
Ingredients
For Fish
2 x 200g
Barramundi Tail-Cut Portions
For Sauce
4 tbsp
Japanese Soya Sauce
2 tsp
Corn Starch (mixed in 2 tbsp water)
Method
1.
To prepare Ponzu Sauce, put all the ingredients for the sauce in a small saucepan. Bring it to a boil over medium-high heat and turn off the heat. Let the sauce sit for 5 minutes.
2.
Strain the sauce through a sieve and return the liquid to medium-high heat. Add the cornstarch slurry to the sauce and stir to thicken slightly. Set aside.
3.
Cut the barramundi portions into 4 pieces, i.e. 8 pieces in total. Season lightly with salt.
4.
Heat the oil in a small pot over medium-high heat.
5.
Dust the fillets lightly with tempura flour and slide them into the oil immediately. Do not overcrowd the pot. Fry till light golden brown (about 1 minute).
6.
Remove and drain off excess oil from the fillets.
7.
Serve with shiso leaf and ponzu sauce.