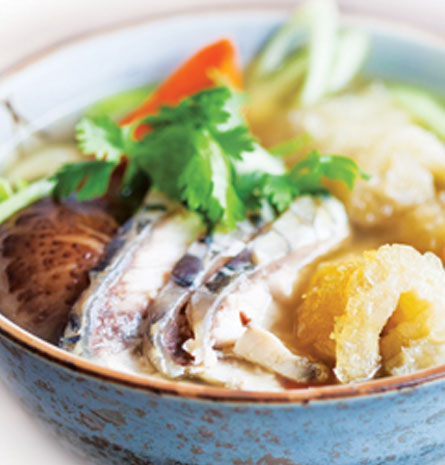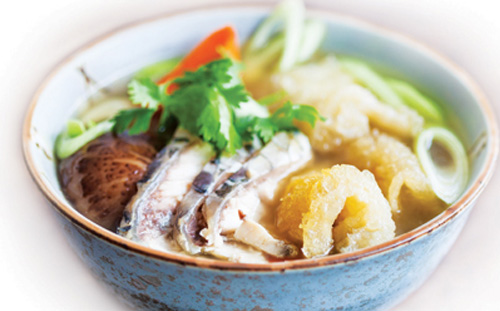 Hainanese Festive Fish Maw with Barramundi Soup
Serves:

4
Preparation Time:

60 Mins
Level:

Easy
Ingredients
2 x 200g
Kühlbarra Barramundi Fillet
3L
Homemade chicken stock
12pcs
Soaked flower shitake mushroom
200g
Round cabbage chopped into big pieces
200g
Carrots chopped diagonally into medium sized chunks
-
Chopped coriander leaves for garnishing
Method
1.
Slice the barramundi about 2-3 cm thick and marinate with 2 slices of ginger, a pinch of salt and a tsp of vegetable oil.
2.
Roast the dried fish maw for 10 mins at 180ºC, followed by soaking 1/2hour before use.
3.
Bring the homemade chicken stock to a boil.
4.
Add in chopped round cabbage, ginger slices, shitake mushroom, coriander roots and carrots.
5.
Simmer for 20 minutes.
6.
Add the soaked and cut fish maw pieces.
7.
Continue to simmer for another 30 minutes till everything is tender. Add salt to taste.
8.
Add slices of the barramundi fillet to the soup. Add the thinly sliced leeks.
9.
The thin slices of barramundi should cook in a jiffy.
10.
Serve immediately with chopped coriander as garnishing.
Tips
1.
The barramundi fillet slices can be cooked separately in chicken stock and added to the rest of the soup to prevent overcooking of the tender flesh of the barramundi. The stock used for blanching the fillets can be added back to the soup.