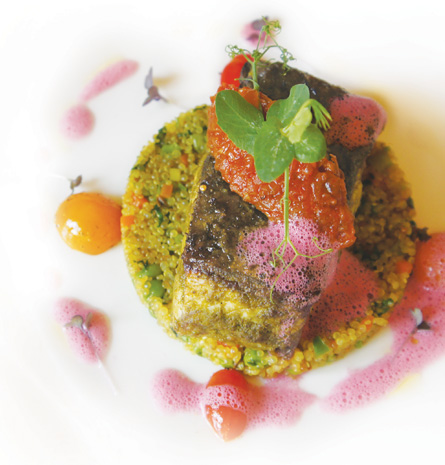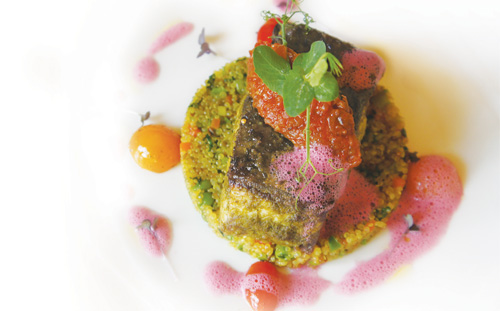 Nilgiri Masala Barramundi
Serves:

4
Preparation Time:

60 Mins
Level:

Easy
Ingredients
For Fish
800g
Kühlbarra Barramundi Fillet
3 nos
Green Chilli; Slit Lengthwise
2 tbsp
Ginger-Garlic Paste
1 cup
Coriander Leaves; Chopped
1 cup
Mint Leaves; Chopped
For Tomato Chutney
200g
Tomato; Blanched & Diced
2.5g
Green Chilli; Chopped
1 nos
Dried Whole Red Chilli
Method
For Fish
1.
Grind together fennel seeds, green chillies, curry leaves, ginger-garlic, coriander leaves, mint leaves, spinach and coconut.
2.
Mix the fish with green masala paste, coriander and garam masala powder.
3.
Heat oil in a pan and sear the fish. Then put in the oven for 5 - 7 minutes.
For Quinoa Pulao
1.
Heat oil in pan, put cumin seed, sauté and cook all vegetables.
2.
Add tumeric powder, sauté for a few seconds, and then add water before removing it from heat.
3.
Cling wrap quinoa for 20 minutes.
For Tomato Chutney
1.
Cut tomatoes into dices and keep aside.
2.
Heat oil in a pan. Once hot, add curry leaves, mustard seed and sauté for a few minutes, then add diced tomatoes, chopped onions, green chilli and whole red chilli. Cook till onions are soft.
3.
Finish with tamarind water, lemon juice and season to taste.
For Kokum Sauce
1.
Boil the kokum in the water, strain.
2.
Put cumin seed and strained kokum water into a little bit of heated oil. Then add coconut milk.