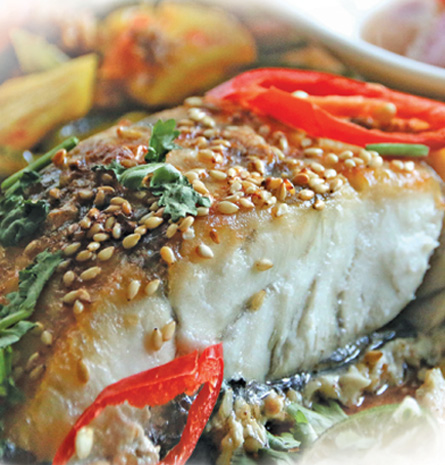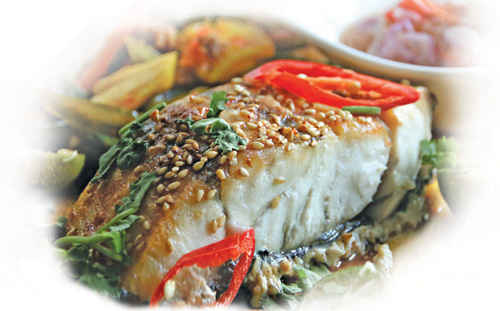 Oven-Roasted Barramundi with Sambal Cincalok and Acar
Serves:

2-3
Preparation Time:

15 Mins
Level:

Easy
Ingredients
For Fish
2 x 200g
Kühlbarra Barramundi Fillet
1-2 tsp
Roasted Sesame Seeds
For Sambal Cincalok
2-3
Shallots; Thinly Sliced
1 nos
Large Chilli; Thinly Sliced
2-3 tsp
Katsuri Lime Juice
Method
For Fish
1.
Spray (or brush) the bottom of a casserole or baking tray with some olive oil. Sprinkle a layer of roasted sesame seeds at the bottom of the casserole.
2.
Place the barramundi steaks on the tray, skin side down, and spray (or brush) with some olive oil. Sprinkle more roasted sesame seeds on the flesh.
3.
Roast barramundi in the oven at 200°C for 20 minutes.
For Sambal Cincalok
1.
Place cincalok in a small bowl. Add sliced chilli and shallots.
3.
Mix well and taste. You can adjust the quantity of the ingredients to sit your taste. Set this aside.
4.
To serve, place the barramundi on a serving dish. Garnish with sliced chilli and chopped coriander. Serve with the sambal cincalok and acar.