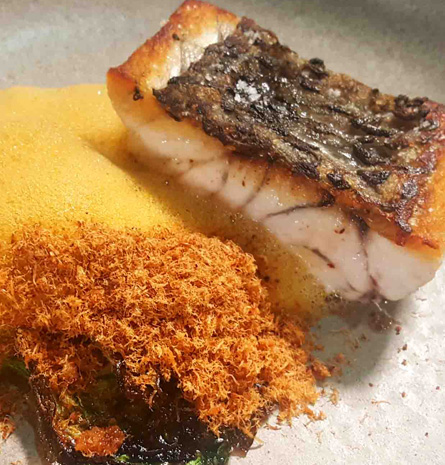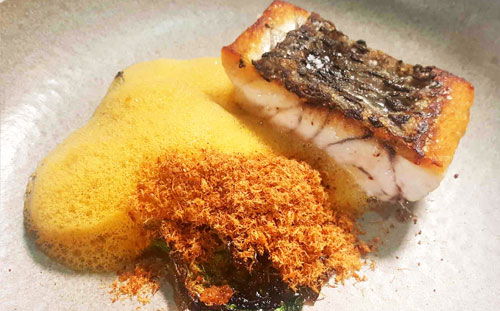 Pan-fried Barramundi | Prawn Bisque | Charred Lettuce
Serves:

1
Level:

Difficult
Ingredients
For Caramelised Onion Purée
-
Sherry Vinegar; to taste
For Pickled Onion
1
White Onion; thinly sliced
For Charred Lettuce
1
Baby Gem Lettuce; sliced in half
For Fish
160g
Kühlbarra Barramundi
Method
For Caramelised Onion Purée
1.
Sauté the onion in a pan over low heat until it becomes soft and caramelised.
2.
In a blender, blend onions to a smooth purée and season with sherry vinegar and salt.
For Pickled Onion
1.
Bring the liquid to the boil.
2.
Cover onions in the liquid and let it steep; this can be done 1 day prior.
For Charred Lettuce
1.
Heat up a heavy-based pan on high heat.
2.
Put enough oil into the pan just to coat the base and place baby gen lettuce on the pan until it becomes nearly burnt on one side.
3.
Keep warm until plating.
For Prawn Bisque
1.
Roast all of the ingredients, except the liquids, in a heavy-based pot.
2.
Once everything is nicely caramelised and starts sticking to the pot, deglaze it with white wine and cook until all of the liquid evaporates and starts sticking to the pot again.
3.
Add chicken stock and reduce by half.
4.
Add cream and bring to a simmer before taking it off the heat.
For Prawn Floss
1.
Mix all of the ingredients together and leave out for a couple of hours.
2.
Drain the prawns and then deep fry at 180°C until completely dry.
3.
Blend in a food processor until it turns into a floss.
For Fish
1.
Over medium head, pan-fry the fish on skin side until skin becomes nice and crispy. Cook 90% of the fish on this side, turn the fish over and finish off on the other side.
2.
To put the dish together, place caramelised onion purée on the plate, then charred lettuce on top of the purée. Place some pickled onion on the lettuce, and with a hand held blender aerate the prawn bisque into a foam and cover the lettuce with the foam. Sprinkle prawn floss on top, and place the barramundi on the side.