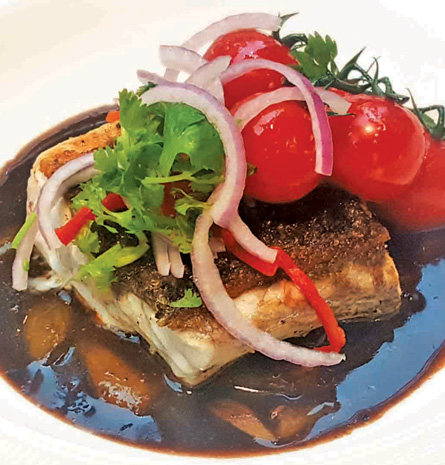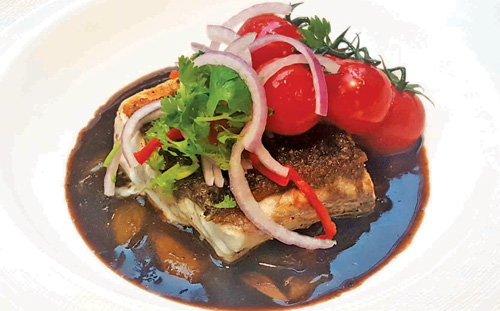 Pan-fried Barramundi with Luffa Gourd in Black Bean Sauce Recipe
Serves:

1
Preparation Time:

30 Mins
Level:

Medium
Ingredients
For Fish
5pcs
Vine-ripened Tomatoes
For Black Bean Sauce
30g
Fresh Red Chilli; Seeded & Chopped
Method
For Fish
1.
Marinate barramundi with salt and pepper.
2.
Pan-fry barramundi, skin-side down first, for about 4 minutes on each side with corn oil.
3.
Roast tomatoes on the same pan for about 2 - 3 minutes until plump and slightly blistered.
For Black Bean Sauce
1.
Heat wok with corn oil and stir fry ginger, onion, garlic, chilli and black bean on low heat till fragrant.
2.
Add in the oyster sauce, sugar and salt & pepper to taste.
3.
Add the sesame oil, Chinese wine and luffa gourd and simmer for about 5 - 10 minutes.
For Plating
1.
Pour the black bean sauce and luffa gourd on the bottom of a plate and place the barramundi on top.
2.
Place roasted tomatoes on top and garnish with coriander leaves, red onion and red chilli.