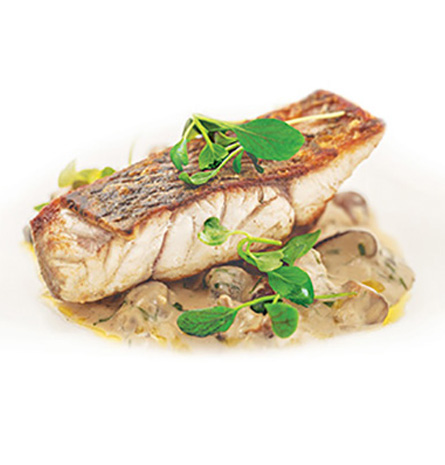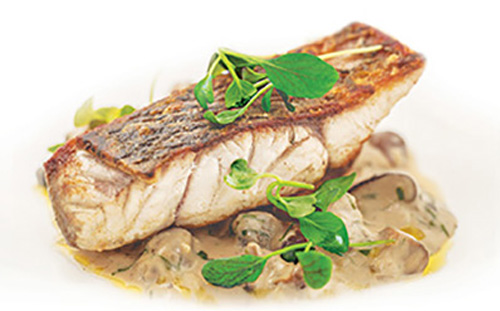 Pan-Roasted Barramundi with Mushroom Ragù
Serves:

4
Preparation Time:

30 Mins
Level:

Medium
Ingredients
4
150g Külhbarra Barramundi Fillets
100g
Cremini/swiss brown mushrooms
Method
To prepare the Barramundi Fillets
1.
Season the barramundi with salt & pepper, set aside.
To cook the Barramundi Fillets
1.
Pat the barramundi fillets dry.
2.
Heat a pan drizzled with olive oil over high heat.
3.
Pan-fry the barramundi skin side down, pressing down lightly on the fish.
4.
Lower to medium high heat and let the barramundi cook for about 2 - 3 minutes until the skin is nicely browned and crispy.
5.
Turn the fish over, lower the heat to medium low and cook for another 1 - 2 minutes.
6.
Remove from the pan and set aside to rest.
To prepare the Mushroom Ragù
1.
Combine liquid cream and thick cream in a pot. Let the mixture come to a boil and reduce slightly. Set aside.
2.
Trim the stems off the button, cremini, shimeji and shitake mushrooms. Cut all mushrooms into smaller pieces and separate the shimeji into individual stalks.
3.
Slice peeled shallots and garlic thinly and set aside.
4.
Drizzle a pot with olive oil over medium fire, and sauté the sliced garlic until fragrant.
5.
Add in the sliced shallots and sauté until softened. Then, add in the mushrooms and sauté lightly.
6.
Pour in the white wine and reduce it until almost dry before adding in the reduced cream.
7.
Season with salt and pepper. Allow the ragù to cook for about 15 - 20 minutes.
To serve
1.
Lay dish with sauce and place fish gently in the middle of the dish. Sprinkle garnish evenly on sauce and serve.