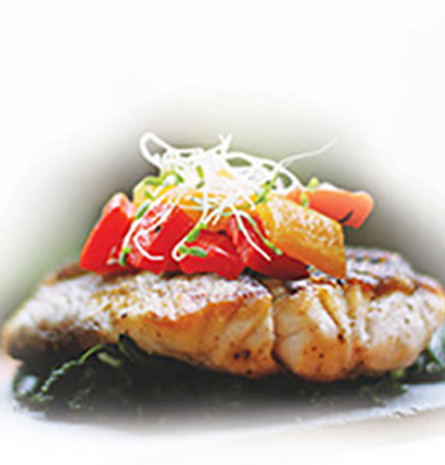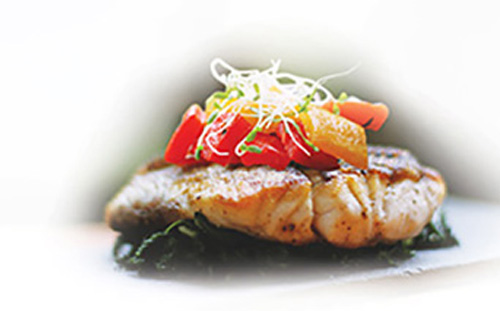 Pan-Seared Barramundi with Spinach and Bell Pepper Relish
Serves:

4
Preparation Time:

15 Mins
Level:

Easy
Ingredients
4
200g Külhbarra Barramundi Fillets
6
Alfafa sprout, a small bunch for garnishing
3 tbsp
A small bunch of Coriander, roughly chopped
1 tbsp
Cold-pressed Coconut Oil (optional)
-
Freshly ground black pepper
Method
To prepare Barramundi Fillets
1.
Pat dry fish with kitchen towel.
2.
Season with salt and pepper.
3.
Set aside for 15-30 minutes
4.
Heat pan/grill to high heat.
4.
Heat pan/grill to high heat.
5.
Sear fish skin-side. Reduce to medium high heat if skin is browning too quickly. You want to achieve a golden brown crisp.
6.
Pan sear till fish is half opaque, then turn over for another 2-3 minutes.
7.
Place cooked fish on kitchen towel.
For Bell Pepper Relish
1.
Using tongs, place whole bell pepper directly on fire.
2.
Char all sides evenly, about 6-8 minutes.
3.
Place in bowl and cling wrap until cool enough to handle.
4.
Remove blistered skin and seeds.
5.
Cut into cubes and mix with salt, pepper, olive oil.
6.
Add coriander, coconut oil and lemon juice.
7.
Mix well and set aside in the fridge for an hour.
For Wilted Spinach
1.
Cook spinach till soft.
2.
Saute with garlic and season to taste.
To seve
1.
Lay out spinach on plate, place fish on top and drizzle bell pepper relish and garnish with alfafa. Serve immediately.