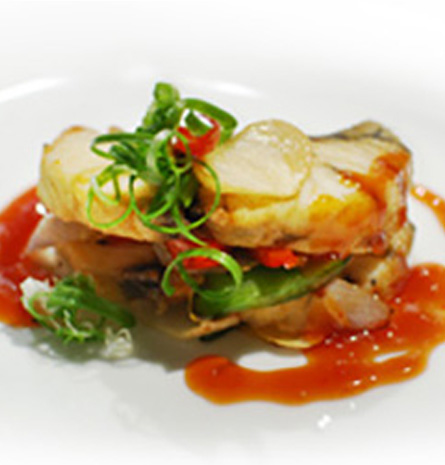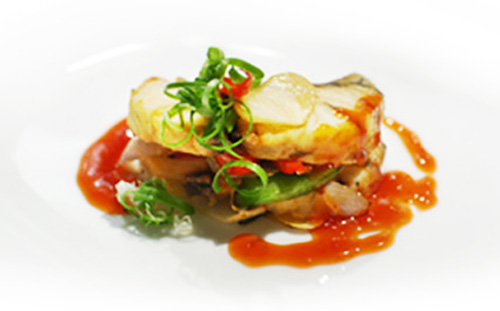 Pan Seared Barramundi With Sweet and Sour Sauce
Serves:

4
Preparation Time:

25 Mins
Level:

Medium
Ingredients
4
200g Pieces Kühlbarra premium barramundi, cut into 1.5 cm-thick slices
-
Cornstarch for thickening(optional)
50g
Each of red bell peppers, green bell peppers, onion, red chili and spring onion, chopped
Method
1.
Season barramundi with salt and pepper. Set aside.
2.
To prepare sauce, place all ingredients for sauce in a pot and bring to boil, then simmer for 10 minutes. Set aside to cool.
3.
Dust barramundi lightly with corn flour.
4.
In a wok, pan sear the barramundi in olive oil over high heat. Remove when it has turned crisp and golden brown. Set aside.
5.
Pour off all but 1 tbsp of the oil from the wok. Add garlic, red and green peppers, onion, chili, spring onion and pineapple. Toss over high heat for 30 seconds. Add the rest of the ingredients and stir well.
6.
Add one ladle of sweet and sour sauce and mix well. Pour over barramundi and serve hot.