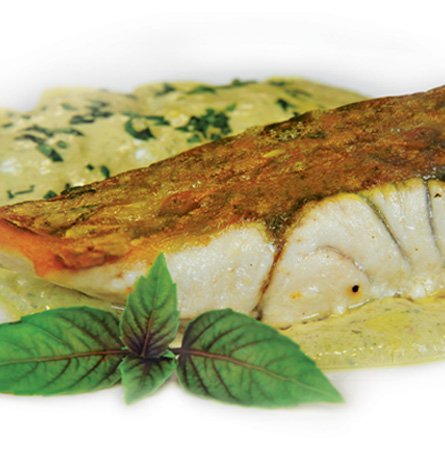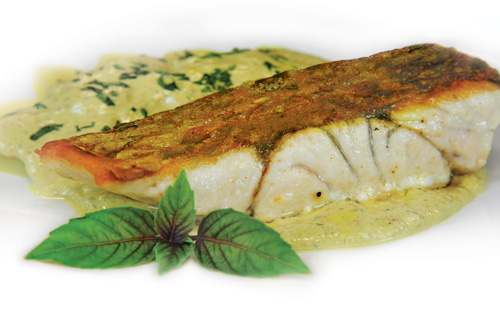 Serves:

2
Preparation Time:

30 Mins
Level:

Medium
Ingredients
For Pesto
2 x 200g
Kühlbarra Barramundi Fillet
50g
Sweet Genovese Basil Leaves
10g
Pine Nuts; Lightly Toasted
100ml
Extra Virgin Olive Oil
Other Ingredients
2tbsp
Olive Oil or Cooking Oil
Method
For Pesto
1.
Place garlic and half the olive oil into a blender and set it on a slow speed
2.
Start adding the basil leaves in small handfuls alternating with olive oil.
3.
When all the basil leaves are added introduce the pine nuts and cheese.
4.
Blend until a smooth consistency (2-3 minutes).
For Barramundi Fillets
1.
Light coat the fillets with corn starch.
2.
Heat up the pan and pour in the olive oil.
3.
Pan-fry the barramundi over high heat (about 3-4 minutes on each side).
For Cream Sauce
1.
In a small pot, heat up the cooking cream to a simmer, add 5 tablespoons of the pesto into the cream and stir until a rich consistency..
3.
Pour the cream sauce onto the fish and serve immediately with boiled potatoes.