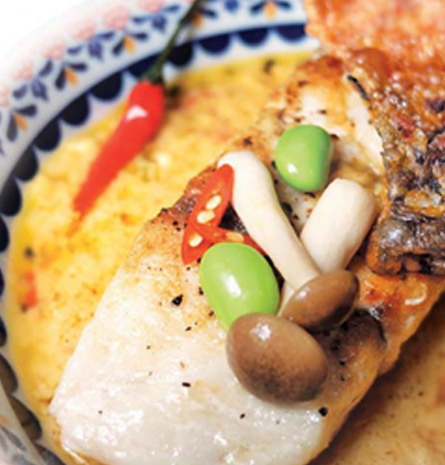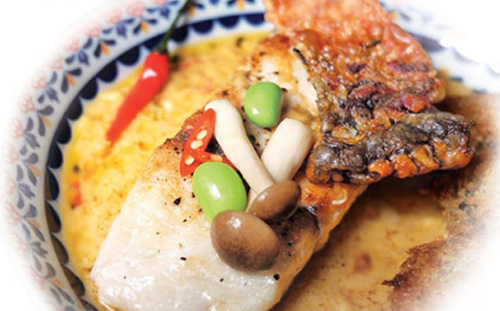 Salted Egg Barramundi with Breaded Mushrooms
Serves:

4
Preparation Time:

60 Mins
Level:

Easy
Ingredients
For Fish
4
200g Kühlbarra barramundi fillets
6
Salted duck eggs, steamed and mashed
4-5 pcs
Chilli padi, sliced
200ml
Chicken stock, heated
For the Breaded Mushrooms
200g
Packet fresh shiitake mushrooms, stems removed
For Garnish
100g
Shimeji mushrooms sautéed in olive oil and light soy sauce
-
Edamame beans (pre-boiled)
Method
To cook the fish
1.
Pat dry fillets. Season with salt and pepper.
2.
If using frying pan: Heat olive oil on high heat. Reduce to medhigh and fry fillets skin side down till skin is crispy. Flip fish over and cook for 1-2 mins. Set aside. In a wok, melt butter with olive oil. Add curry leaves and chilli padi. Fry for 3 mins. Add salted egg yolks till bubbles. Add chicken stock slowly, stirring the salted eggs. Add evaporated milk, stir, and add in sugar and salt. Mix and set aside.
To cook the mushrooms
1.
Combine plain flour, corn starch, garlic powder and salt in a bowl. Add in water and mix till batter is smooth. Dip mushrooms in the batter, coat in Panko until dry to the touch. Deep fry till golden.
To Serve
1.
Spoon the salted egg sauce in the middle of a dish. Top with barramundi and a serving of breaded mushrooms. Garnish with edamame beans and shimeji and serve immediately.