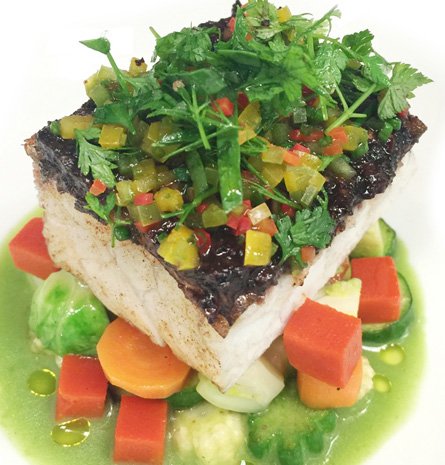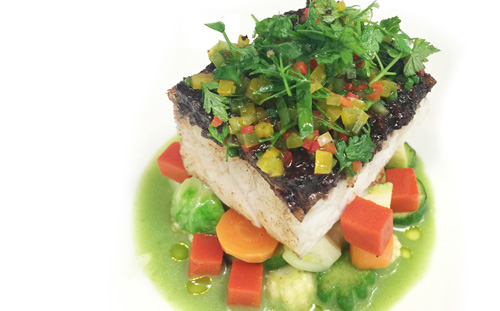 Seared Barramundi with Fermented Black Bean Paste & Pepper Juice
Serves:

4
Preparation Time:

45 Mins
Level:

Medium
Ingredients
For Fish
400g
Kühlbarra Barramundi Fillet, cut into 4pcs
For Garnish
200g
Canned Piquillo Pepper
100g
Burnoise of Red Pepper
-
Lemon Juice from 1 Lemon Wedge
For Black Bean Paste
50g
Dried Fermented Black Bean Powder
Method
Smoked Brine
1.
Combine water, sugar & sosa smoked powder in a container. Soak the fillet into mixture for 60 mins and pat dry. Season with sea salt & black pepper.
For Sauce
1.
Char the green pepper over an open flame. Lightly wash. Juice the green pepper with a fruit juicer. Season with salt & thicken with a pinch of xanthan gum.
For Black Bean Paste
1.
Sauté chopped shallot. Fry garlic, ginger & red chilli in a pan. Add in sugar, oyster sauce & powdered black bean. Stir well for a paste-like texture. Chill & add chopped coriander.
For Vegetables
1.
Chop the vegetables. Blanche in boiling water. Sauté lightly with olive oil and season with salt & pepper.
For Garnish
1.
Blend piquillo pepper with water. Add in gellan & use blender to dissolve the gellan evenly. Bring to boil. Pour into a tray to set and cut into cubes when cooled.
For Barramundi
1.
Sear skin down on non-stick pan till crisp. Pre-heat oven at 79°C and bake for 15 mins. Spread black bean paste on the crisp skin.
For Plating
1.
Place sauce in a deep plate, followed by the vegetables. Place fillet on top of the vegetables. Spread garnish on top of the fillet & drizzle with olive oil.