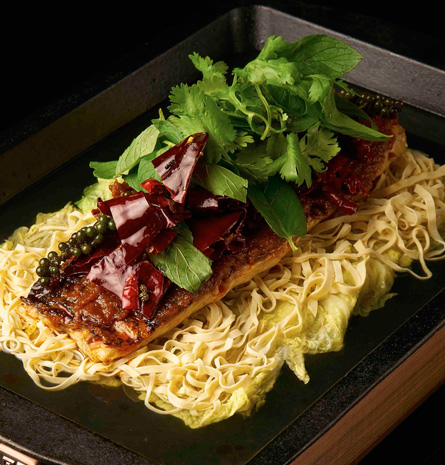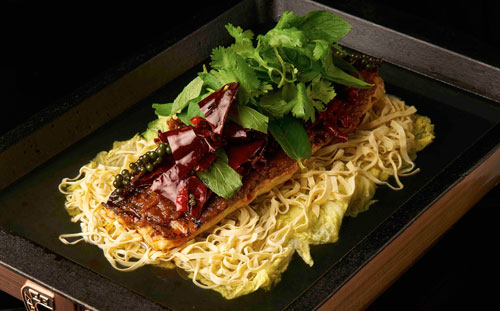 Sichuan 'Mala' Grilled Kühlbarra Barramundi
Ingredients
For Fish
500g
Kühlbarra Barramundi Fillet
10ml
Chinese Rice Wine (Hua Diao Jiu)
1nos
Leek; cut into lengths
300g
White Cabbagel shredded and blanched
120g
Beancurd Skin; sliced into strips for garnish
120g
Parsley; blanched for garnish
120g
Red Chilli; sliced for garnish
For Sichuan Mala Broth
50g
Dried Red Chilli; sliced
Method
For Sichuan Mala Broth
1.
Heat all ingredients in a cooking pot over a medium heat and bring to a boil.
2.
Reduce heat, cover the cooking pot with a lid and simmer the broth for about 6 hours.
3.
Remove from heat and set aside to cool.
For Fish
1.
Make cross-hatch cuts on the barramundi fillet, skin-side.
2.
Marinate barramundi fillet with ginger and shallots, Sichuan peppercorns, salt and Chinese rice wine. Set aside.
3.
Place the leek onto a baking pan and top with the marinated barramundi fillet.
4.
Grill in a pre-heated oven at 280ºC for about 4 minutes, then flip the barramundi and bake for about 4 minutes.
5.
Place the blanched white cabbage and blanched beancurd skins onto a serving dish and top with the grilled barramundi fillet and cooked dried chillies. Ladle the cooled Sichuan mala broth over the fish and garnish with parsley and chilli slices.