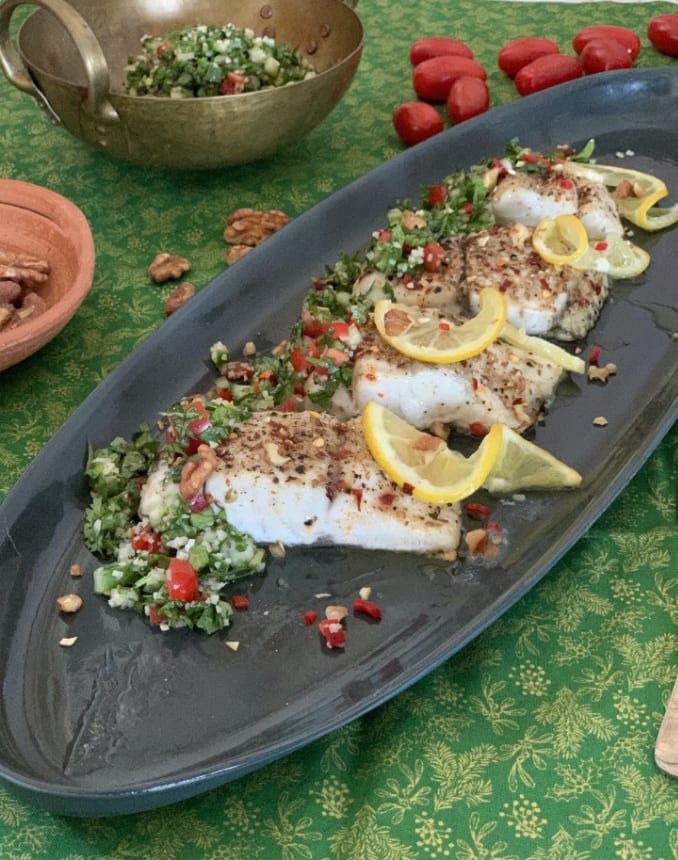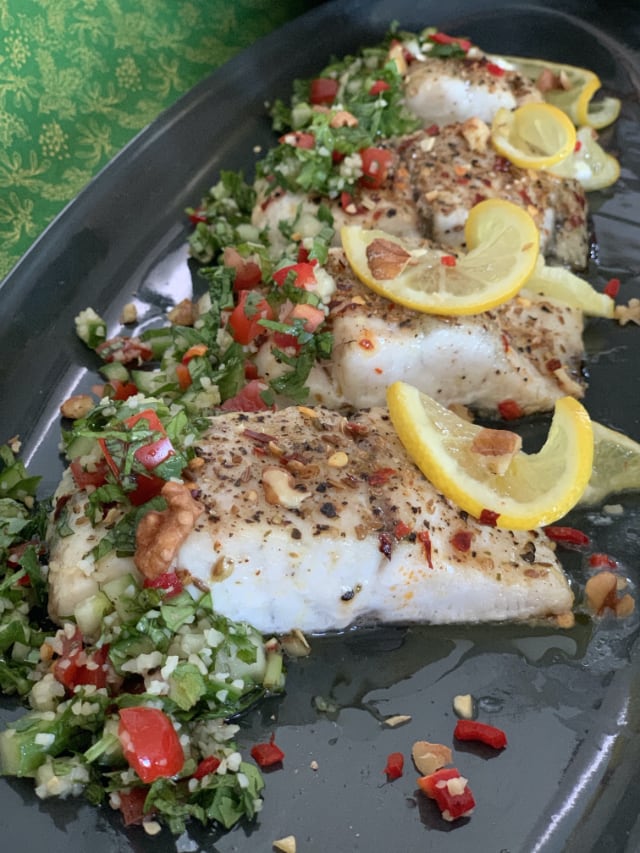 Spiced Baked Barramundi with Coriander and Smoked Walnut Tabouli
Serves:

6-8
Preparation Time:

70 Mins
Level:

Medium
Ingredients
1½ tsp
Cumin seeds, toasted, coarsely-ground
1½ tsp
Coriander seeds, toasted, coarsely-ground
½ - 1 tsp
Flaked dried chillis
Coriander & Walnut Tibouli
¼ cup
Finely-chopped fresh coriander leaves
¼ cup
Finely-chopped mint leaves
2 stalks
Spring onions, finely-chopped
1 pc
Red chilli, deseeded, finely-diced
5 - 6 pcs
Cherry Tomatoes, diced, drained
1 pc
Lebanese or small Japanese cucumber, seeds removed, diced
1 pc
Small red onion, peeled, finely-diced
1 pc
Pomegranate, seeds extracted (optional)
½ pc
Lemon, zest and juice
1 tbsp
Pomegranate molasses
2 - 3 tbsp
Extra virgin olive oil
1 pinch (generous)
Coarsely-ground cumin
Roasted smoked/normal walnuts, roughly-chopped
Extra lemon, thinly-sliced and slit from middle to edge
Method
1.
Preheat your oven to 210°C.
2.
Season the fillets well with smoked salt, pepper and olive oil. Then rub all over with cumin, coriander, chilli and garlic flakes. Drizzle a little more oil on a baking sheet lined with grease-proof paper and place the fish skin-side down. Sprinkle any remaining spices. Set aside.
3.
For the tabouli, soak the bulghur according to the packet instructions. Leave until all the water has been absorbed, then drain well through a fine sieve. I tend to add a little less water as I like my bulghur a little al dente.
4.
In a mixing bowl, add the coriander, mint, spring onions, chilli, tomatoes, cucumber, onion, pomegranate seeds (if you opt to use them) and the soaked bulghur, then toss to combine. In a separate bowl, mix the lemon zest and juice, minced garlic, pomegranate molasses, salt, sugar, cumin, pepper and olive oil. Just before serving, pour this herb mixture along with the walnuts and toss to combine.
5.
Bake the fish in the oven for 20-25 minutes, or until just cooked and the flesh flakes away easily.
6.
To serve, gently transfer the fish fillets onto a serving dish, topped with some tabouli and lemon slices, keeping any extra tabouli in a side serving dish. Sprinkle the garlic flakes and drizzle with a little more olive oil. Serve immediately.