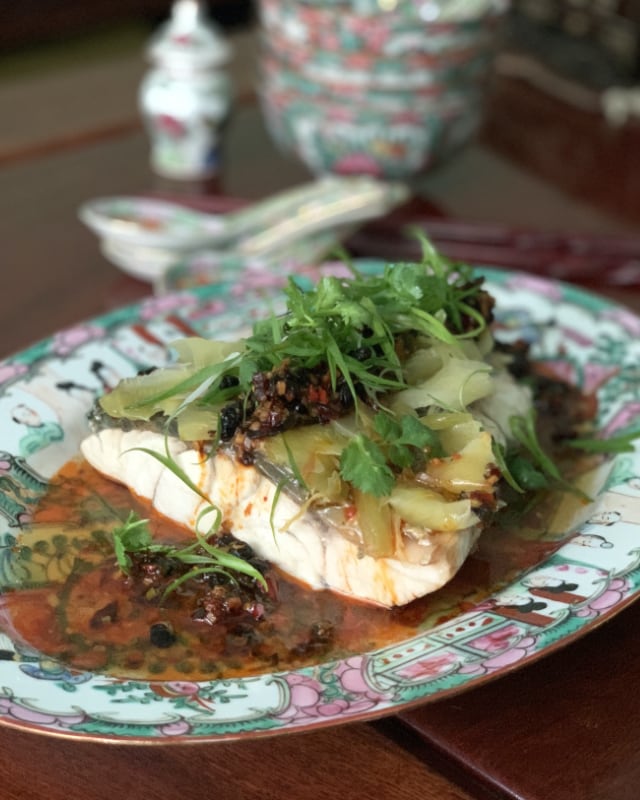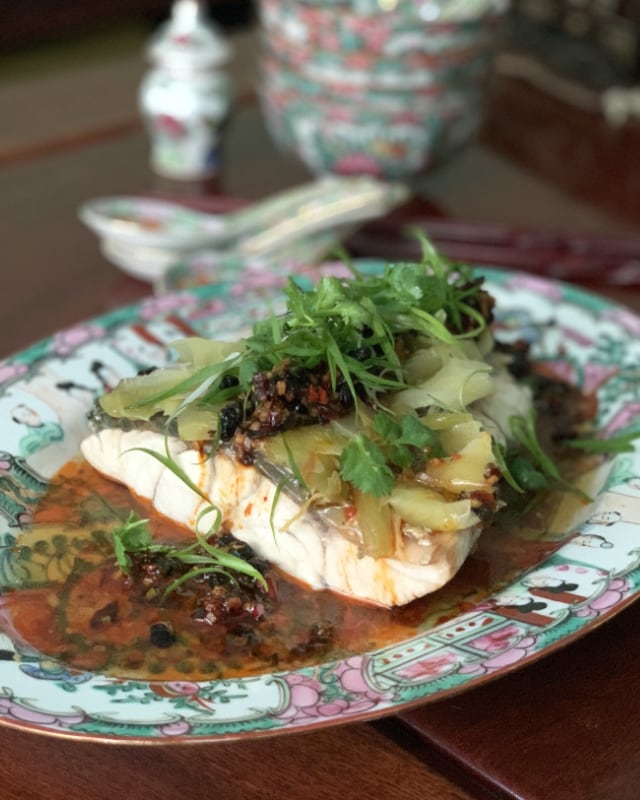 Steamed Barramundi with Kiam Chai, Chilli, Ginger & Black Bean
Serves:

4-6
Preparation Time:

30 Mins
Level:

Easy
Ingredients
85g
Preserved salted mustard greens, thinly-sliced on the diagonal (see note)
20g
Young ginger, peeled, finely-sliced and julienned
1 pinch
Freshly-cracked black pepper
Chilli, Ginger & Black Bean Sauce
1
Large hot green chilli, finely-diced
1
Large hot red chilli, finely-diced
10g
Young ginger, peeled, finely-diced
2 pcs
Cloves garlic, peeled, finely-diced
1 tbsp
Finely-chopped coriander stems
15g
Dried, fermented, salted black beans, rinsed and drained
2 tbsp
Lao Gan Ma Hot Chilli Condiment / Spicy Chilli Crisp
Oil (vegetable or rice bran)
Method
Chinese New Year is a time of celebration where an abundance of dishes are prepared to represent everything from good health to long life and prosperity. I love that the Chinese use the vibrant colours and characteristics of food to represent these.

As we all know, it's customary to serve fish at the end of the evening meal as it symbolises a wish for abundance in the coming year. Barramundi is perfect and especially delicious when steamed. Note: this recipe uses fillets instead of a whole fish. If you prefer the fish skin to be crispy but still want to steam the fish, remove the skin prior to cooking, pat it dry well, then lay it flat on a hot pan with a flat weight over the top to allow the skin to crisp up evenly. Continue with the recipe below for steaming the fish. When you're ready to serve, top your steamed fish with the crispy skin for that added bit of crunch.
1.
Begin by making the chilli, ginger and black bean sauce. Mix the fermented salted black beans and mirin together in a small bowl. In another bowl, mix together the Lao Gan Ma chilli, vinegar, soy and sesame oil.
2.
Heat 2 tablespoons of oil over medium-high heat in a small saucepan. Add the chillies, ginger, garlic and coriander stems, fry for 2-3 minutes until lightly-coloured. Reduce the heat slightly, add the salted black beans and mirin, followed by the Lao Gan Ma, vinegar, soy and sesame oil mixture. Fold through until well combined. Remove from the heat and keep warm.
3.
Steaming the fish will only take about 12-14 minutes, so time this just prior to serving. Choose a plate that will fit into your steamer. If you don't own a steamer, fill a wok (or large saucepan) inch-deep with water, place a rack at the base of the wok, cover and bring to boil.
4.
Rub the fish with the tablespoon of soy sauce and black pepper, then place it on the plate skin-side up. Top with the julienned young ginger and mustard greens. Place on the rack, cover and steam on medium-high for 12 minutes or until the flesh forks apart easily.
5.
Serve immediately and remember the saying, "Nian Nian You Yu"!
NOTE: Kiam Chai (or preserved mustard greens) can be purchased from wet markets in Singapore, or vacuum-packed in most Asian grocery supermarkets. Look for the salted ones. Most market vendors will sell fresh pieces according to how much you want. Slice them thinly, then soak for at least 20 minutes to remove the excess salt. Be sure to taste. If they are a lot saltier, you may need to soak them for a little longer. Before cooking, squeeze in your palms to remove any excess water. For soy sauces, I use naturally-brewed Kikkoman. Avoid soy sauces with added flavour enhancers and MSG.