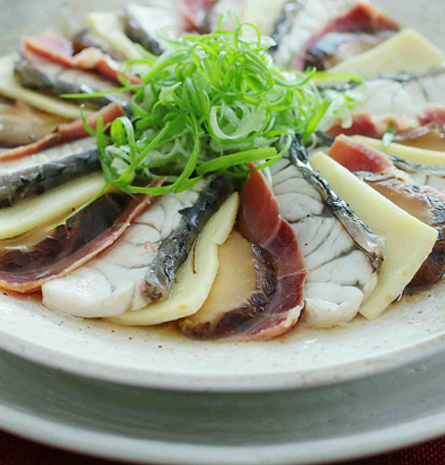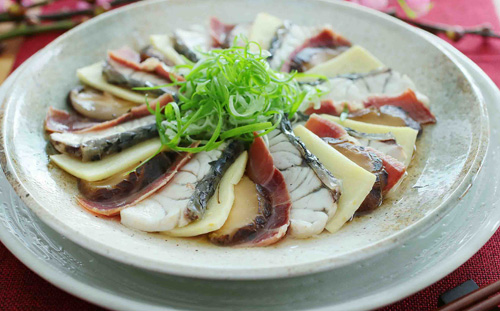 Steamed Barramundi with Chinese Ham
Serves:

3
Preparation Time:

30 Mins
Level:

Easy
Ingredients
For Fish
500g
Kühlbarra Sliced Barramundi
5pcs
Chinese Mushrooms; Soaked till softened
2 tbsp
Knife Groundnut Oil
For Seasoning
1 tsp
Knife Reduced Salt Thai Fish Sauce
Method
1.
Slice bamboo shoots and mushrooms to 0.5cm thickness.
2.
Slice Chinese ham as thinly as possible.
3.
In a bowl, mix all the seasoning ingredients well.
4.
Blanch sliced bamboo shoots for 4 minutes.
5.
Sprinkle Chinese rice wine on the Chinese ham and steam for 5 minutes.
6.
In a steaming platter, arrange sliced fish, Chinese ham, mushrooms and bamboo shoots in an alternating fashion. Repeat till it completely encircles the steaming platter.
7.
Spoon the seasoning sauce over.
8.
Steam for 4 minutes, or till the fish is cooked.
9.
Heat up groundnut oil till smoking hot.
10.
Pour over the fish and serve immediately.