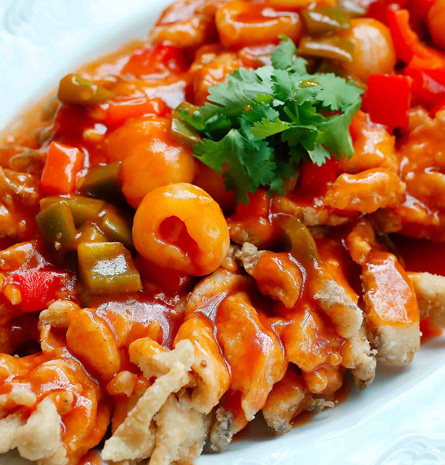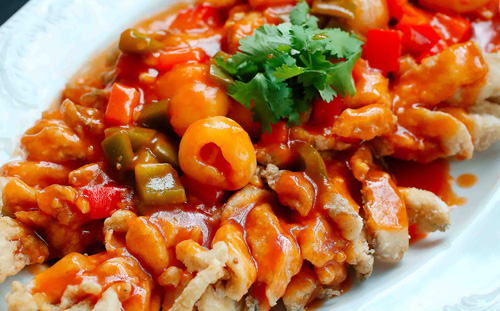 Sweet & Sour Barramundi with Lychee
Serves:

4
Preparation Time:

20 Mins
Level:

Easy
Ingredients
For Sweet & Sour Lychee Sauce
150ml
Lychee Syrup; From Canned Lychees
Method
1.
Cut red, yellow and green bell peppers into cubes.
2.
Cut barramundi fillet into 2 long strips.
3.
Make 1.5cm horizontal cut at an angle, stopping at the skin layer of the fillet.
4.
Make 4 verticle straight cuts, stopping at the skin layer of the fillet.
5.
Season barramundi with salt and pepper.
6.
Coat fillets with potato starch, making sure all areas on the fish are coated (including between all the slits). Shake off excess potato starch.
7.
Heat sufficient oil in a wok.
8.
Holding the two ends of the fillet, lower the fillet into the oil, forming a "U" shape so that it flowers up. Hold on to the fillet and slowly let go once the shape is fixed.
9.
Deep-fry barramundi till golden brown. Drain and set aside.
10.
Heat oil in a wok and add minced garlic, minced ginger and bell peppers. Stir-fry till fragrant.
11.
Add tomato ketchup, oyster sauce, and lychee syrup. Mix well and season with salt and white pepper.
12.
Once the sauce thickens, add 6 lychees
13.
Mix well and drizzle over the fried barramundi.