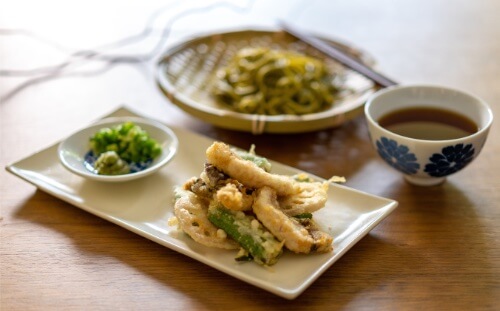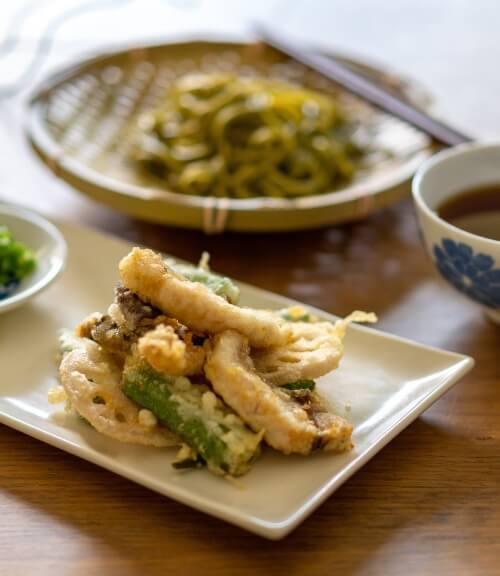 Tensoba with Barramundi & Vegetable Tempura
Serves:

4
Preparation Time:

90 Mins
Level:

Difficult
Ingredients
Mentsuyu
1 pc
Kombu (approx. 6-inches)
½ cup
Dried, shaved Bonito
Tempura
1 pc
Lotus Root, peeled (approx. 4-inches)
4
Shiitake Mushrooms, stems trimmed
Method
Mentsuyu
1.
To make the sauce, put all the mentsuyu ingredients into a pot and heat on medium.
2.
When the first few bubbles start to form around the edges, turn off the heat and cover with a lid. Leave it to cool to room temperature.
Soba
1.
Boil the soba noodles following packet instructions. Don't overcook them – they should still have a nice springy bite.
2.
Drain and place in a large bowl filled with cold water and lots of ice. This will stop the soba noodles from cooking any further and ensure a lovely springy texture.
Tempura Ingredients
1.
Cut the vegetables into bite-sized pieces.
2.
Wash the fish slices under running cold water and dry using paper towels. Allow them to come to room temperature and dry completely. You can do this 30 mins ahead of time.
Tempura Batter
1.
Get two large metal bowls. One should be bigger than the other.
2.
Fill the bigger bowl with ice cubes and water.
3.
Place the smaller bowl inside the bigger one and let the ice water in the bigger bowl cover the base and run up the sides of the smaller bowl slightly.
4.
Add the flour, ice water, egg yolk and ice cubes into the smaller bowl. Lightly whisk using a pair of chopsticks. Go for about 8 sweeping whisks and then stop.
5.
Do not overwhisk. It is ok if there are still lumps and areas of white flour. This is actually a good sign.
6.
Keep this batter cold by placing it in fridge until ready to use. Keep it as cold as possible and make it just before using it.
Frying Tempura
1.
Heat vegetable oil in a large, heavy-bottom saucepan. Bring the temperature up to 180 degrees celsius, dip the pieces of sliced fish and vegetables in the batter and then place them carefully in the saucepan.
2.
Fry in batches and make sure not to overcrowd the saucepan.
3.
Cooking time for each batch is relatively fast at approx. 2 mins. The colour should be a light golden hue. It shouldn't take on anything darker.
4.
Remove finished pieces and dry on kitchen paper towels.
5.
Go for a light sprinkle of good quality sea salt as they come out.
Serving
1.
Take ½ cup of the Mentsuyu and add 1 cup of cold water or enough water to taste. This will form the dipping sauce for the soba noodles.
2.
The rest of the mentsuyu can be stored in an air-tight container in the fridge for up to one week.
3.
Drain the soba noodles thoroughly and place on a plate by itself. The drier the better.
4.
Finely slice the scallions (white part only) and place in sauce dish with wasabi.
5.
Finally, arrange the tempura with a selection of ingredients in a separate bowl. Itadakimasu!