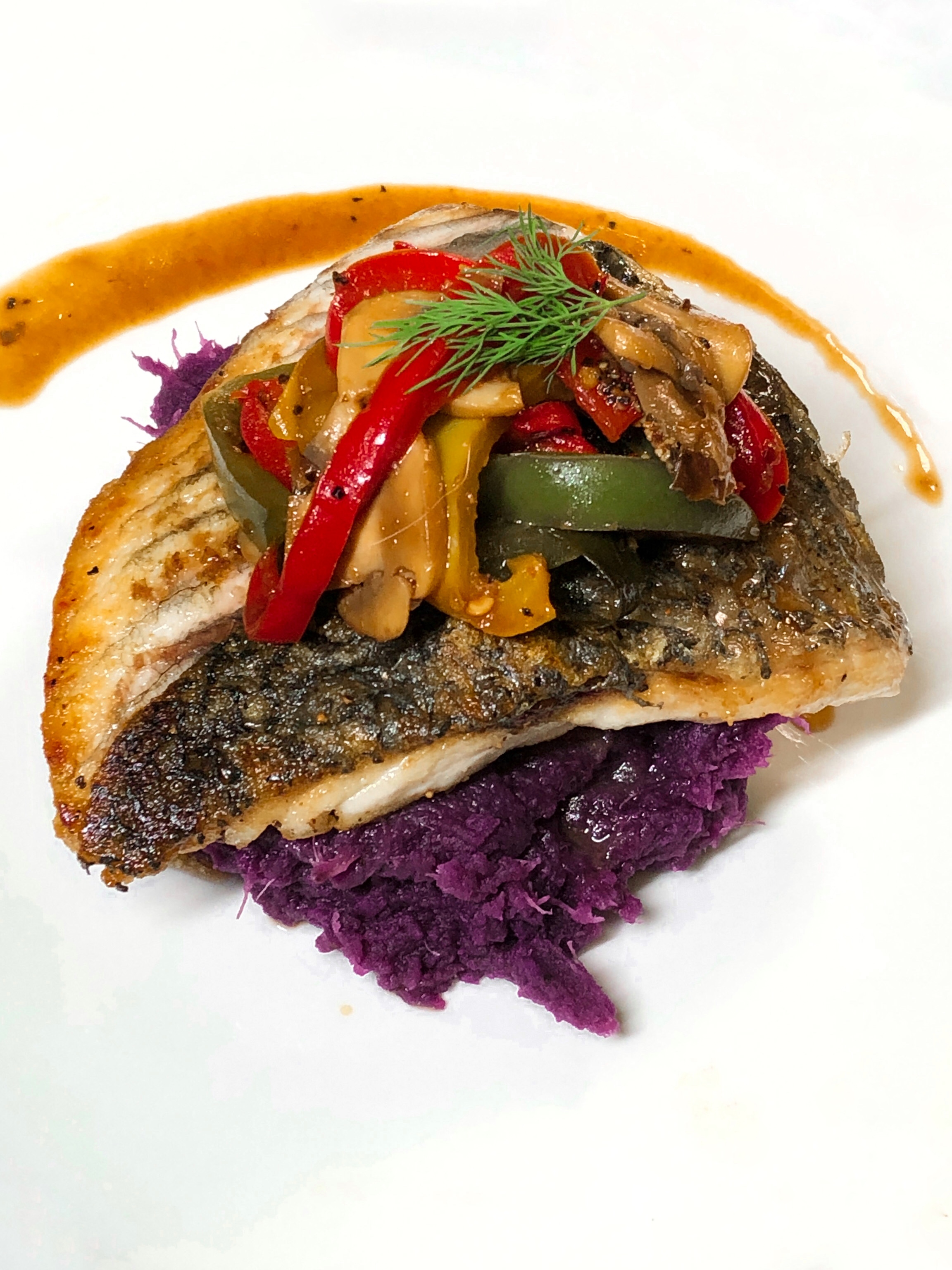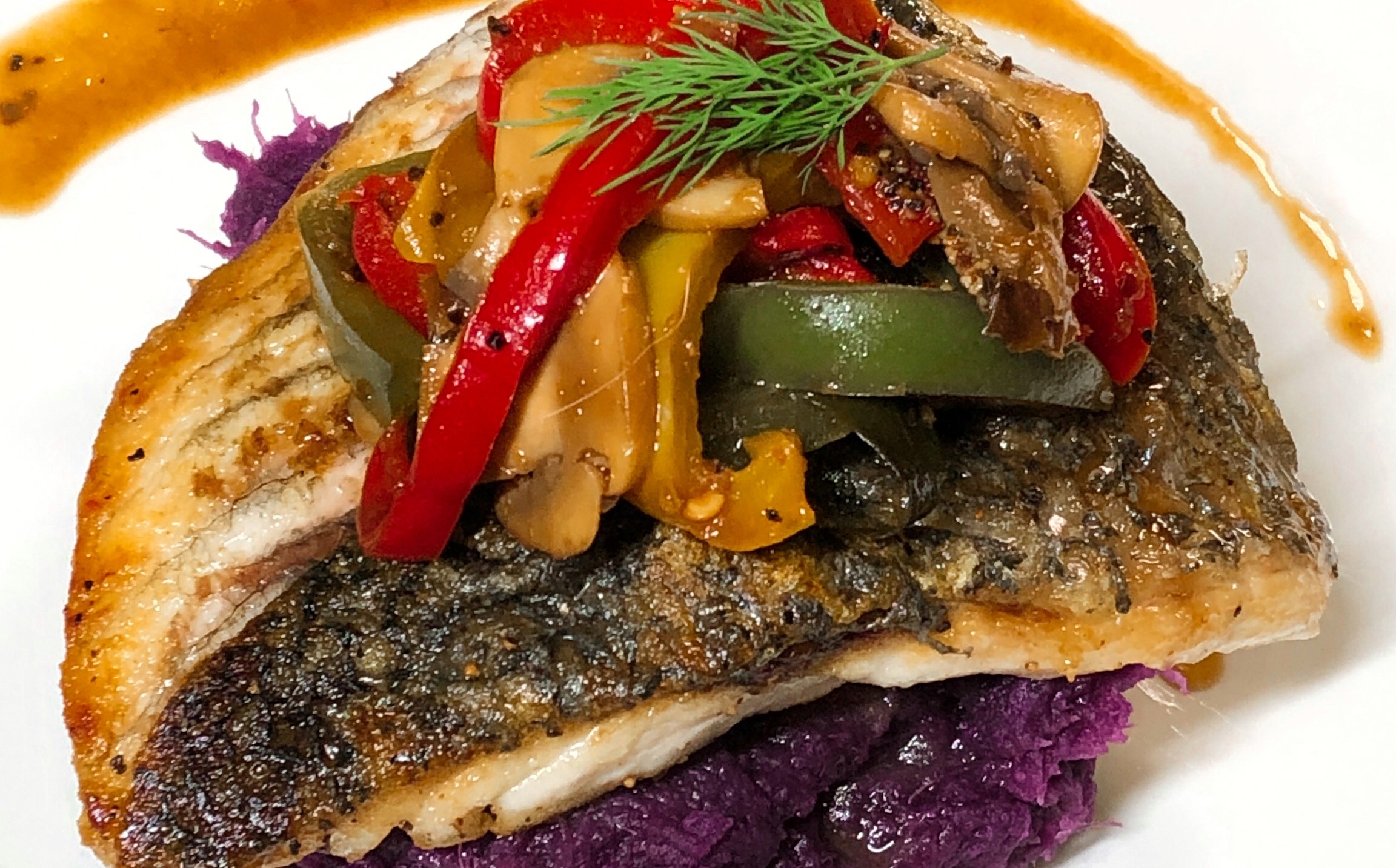 Pan-Fried Barramundi with Purple Sweet Potatoes and Capsicum in Black Pepper Sauce
Serves:

1
Preparation Time:

45 Mins
Level:

Medium
Ingredients
120g
Purple Sweet Potatoes, peeled
3 pcs
Button Mushroom, sliced
50g
Green Capsicum, sliced into strips
50g
Red Capsicum, sliced into strips
50g
Yellow Capsicum, sliced into strips
¼ Tsp
All Purpose Seasoning
1 Pinch
Ground Black Pepper
1 Tsp
Truffle Oil (Optional)
Fresh Dill (for garnishing)
Method
1.
Fill a pot of water, enough water to cover the purple sweet potato. Once the water starts boiling, put in the purple sweet potato and let it boil for 12 minutes.
2.
Add a tablespoon of cooking oil to a pan and put over high heat, add in your sliced mushroom and stir fry for 30 seconds before adding all the sliced capsicum. Stir fry for 10 seconds and pour in 300ml of water.
3.
Let the water evaporate. Once the water has evaporated, adjust to low heat and simmer for 10-15 minutes or until the capsicum becomes soft.
4.
Once soft, add Black Pepper Sauce and mix. (It's quite peppery, do adjust to your own taste)
5.
Add in 60ml of water and turn the heat back to high and mix well.
6.
Once it starts boiling, turn off the heat and transfer it into a small bowl.
7.
Once the purple sweet potato is done, remove and place them in a bowl and mash them till smooth with a fork.
8.
Give the pan a quick rinse before placing it onto the stove, set to a medium heat. Add in the garlic butter and stir till fragrant.
9.
Add in the mashed purple sweet potato and mix well. Pour in some of the purple sweet potato water to alter the consistency till you get a paste-like texture. Drizzle in truffle oil.
10.
Toss in all purpose seasoning and cajun seasoning and mix well, Turn off heat, and set aside.
11.
Season your Kuhlbarra Barramundi Fish with a pinch of salt and grounded black pepper on both sides.
12.
Take a new pan and oil it generously, (approximately 3 tablespoons.)
13.
Set heat to high, once the oil is hot, lower the heat slightly and lay in your Barramundi fish skin side down, and away from you. Press onto the fish to prevent the fish skin from curling.
15.
Let it cook for 2-3 minutes, flip the fish and cook it for another 2-3 minutes. Remove from heat and let it rest (you could use a kitchen towel).
16.
To serve, place your mashed purple potato in the centre of the plate, followed by placing the fish skin side up onto the mashed potato. Accompanied by a big scoop of capsicum and mushroom on top.
17.
Garnish with fresh dill and enjoy!